Shifting Food Business Behaviours for Human & Environmental Health: A Behavioural Science Perspective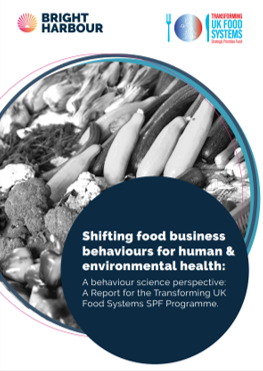 Shifting Food Business Behaviours for Human & Environmental Health: A Behavioural Science Perspective
This new report commissioned by the Transforming UK Food Systems Programme lays out a flexible approach for creating more strategic and holistic behaviour change initiatives using food business behaviours as an example.
Developed using literature-based studies, qualitative interviews and conference discussions.
The novelty of this report is in its use of behavioural framework models alongside holistic behavioural mapping to help guide thinking about shifting business behaviour rather than just individual behaviour.
The report sets out a 4-step approach to using visual behavioural factor mapping, the COM-B framework & the Behaviour Change Wheel to create more strategic behaviour change. The COM-B framework and Behaviour Change Wheel are particularly important when considering intervention methods and are used widely in the public health sector. This report recognises their utility outside the public health space and demonstrates their use in identifying behaviour change interventions more broadly, as a part of a 4 stage process, using food business behaviours as an example.