Recently the Transforming UK Food Systems SPF Programme alongside Defra, held 2 policy workshops exploring research and policy questions within public food procurement and food poverty.
The overall purpose of these workshops was to establish the government's priority evidence questions and explore where the projects within the SPF Programme were delivering the answers.
The workshops introduced the areas of public food procurement and food poverty policy and then held a session for policymakers across government departments to define the priority evidence questions, challenges and barriers they are currently facing by adding to a Miro Board.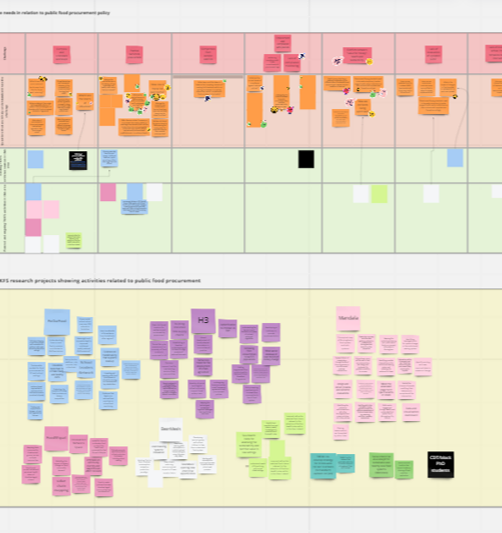 The SPF project teams then noted the research that they will be undertaking into public food procurement and food poverty over the next few years and indicated to the policy teams where and how they hoped to answer their priority challenges.
After filling in the Miro Boards, there was a discussion on whether there were any remaining gaps for future research or for addressing in the current projects.
The outcomes of the policy workshops generated a fantastic mapping tool for future policy evidence needs in these two areas and demonstrated how the SPF projects can influence and provide research on the policy topics in the coming years.
The sessions were also an opportunity for the projects to meet those across government and academia interested in public food procurement and food poverty research, and as a consequence of this, made ongoing connections that will be valuable for the quality and future impact of the programme. It was a mutually beneficial workshop which encouraged both policymakers and academics to tackle the challenges together and informing one another on most recent findings.